Smoked Pulled Pork is one of those meals that's cheap and versatile. In the year 2020 during the global Pandemic, pork shoulder can still be easily found for around $1.30 per pound. This pulled pork recipe has been perfected over about 15 years and still continuously evolves. Pulled Pork can be eaten by itself, turned into sandwiches or used to top a pizza.
When prepping your Pork Shoulder (also known as a Pork Butt), I find it's best to cut it in half prior to applying the dry rub. This increases the surface area by about 20% so your shoulder will be more exposed to both smoke and the rub.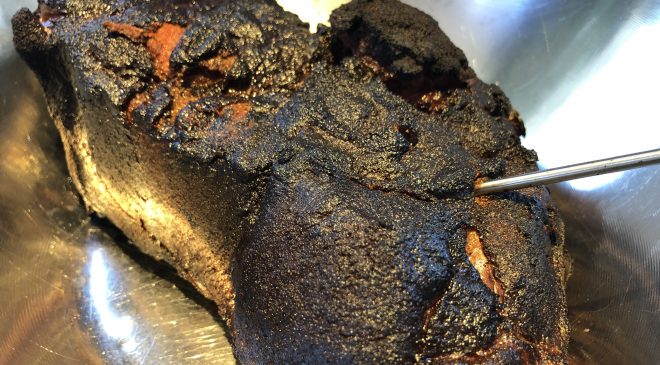 Check that out! That's the thickest bark I've ever seen. It's pure smoky goodness. There's no way for this to be burned at the low temperature this was cooked.
BBQ Pulled Pork
Ingredients
Pork
4

lb

Pork Shoulder

This is half a pork shoulder.
Dry Rub
1

tbsp

Kosher or Sea Salt

Don't use table salt

4

tbsp

Paprika

1/2

tbsp

Cumin

2

tbsp

Chili powder

1/2

tbsp

Garlic powder

1/2

tbsp

Black pepper

1/2

tbsp

Mustard powder
Instructions
Combine all the ingredients for the dry rub in a bowl.

Rub down your pork shoulder with the dry rub. Use all of the rub.

Store the pork shoulder, covered, in your fridge for 24 hours or longer.

Smoke the pork in your smoker at 220f for 4-5 hours up to an internal temperature of 200f degrees.

Once you get to an internal temperature of 200f, wrap it in foil and move it into an oven at 210f for another 4-5 hours. This step will tenderize the pork without letting it turn into mush. You could continue to use your smoker for this, but the oven has better temperature management and will reduce the risk of your BBQ drying out.