eFlow Hardware v0.0.1
eFlow is exceedingly easy to assemble (No part smaller than 0603) and requires no difficult to source components.
Circuit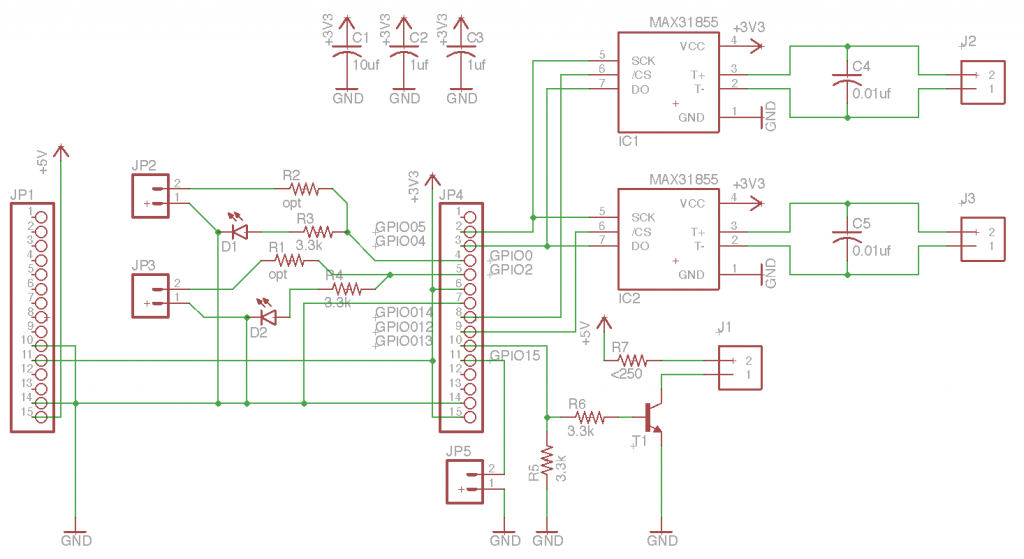 Bill of Materials
1 x 10uf 0603 Capacitor (C1)
2 x 1uf 0603 Capacitor (C2, C3)
2 x 0.01uf 0603 Capacitor (C4, C5)
4 x 3.3k ohm 0603 Resistor (R3, R4, R5, R6)
3 x Terminal Block, 2 Pos – Jameco 2094506, $0.35 ea (J1, J2, J3)
2 x MAX31855 Thermocouple Amplifier – Digikey MAX31855KASA+-ND, $4.5 ea (IC2, IC3)
1 x <250 ohm resistor (R7) – Anything around 250 ohms will work
1 x Nodemcu – Amazon, $9 ea (JP1, JP4)
2 x SMD LED 0603, Jameco 2125190, $0.25 ea (D1,D2)
1 x eFlow PCB, OshPark eFlow, $4.00 ea (Minimum purchase of 3, split the order with a friend)
1 x SSR Relay, Amazon, $9 ea
2 x K Thermocouples, Amazon, $3 ea
1 x MMBT2222A Transistor, Jameco 213938, $0.25 ea (T1)
Reserved For Future Use – JP2, JP3, Jp5, R1, R2
This BOM comes out to about $40. You can get the MAX31855 as samples from Maxim.
The headers of the NodeMCU is installed into JP1 and JP4. JP2 and JP3 are there in the event you want to mount this into an enclosure and want to expose the status LEDs. JP5 is not currently used.
** Buy quality parts! Stay away from eBay especially for the Terminal Block. Cheap terminal blocks will induce measurement errors for the thermocouple. **
Firmware
All versions of eFlow are compatible with this hardware revision.
Hardware Errata
TODO for v0.0.2

Add output for fan
Add terminal header for status LEDs.
Add 5V input terminal header
Add button input header
Extend the NodeMCU buttons to headers.

Known Issues